AOE: French Peninsula Attack
Meeting Engagement Turns Into An Assault!
We've been doing a few Age of Eagles battles here and there in the Peninsula. There are usually small forces, the British make for an interesting opponent, and we can have a good battle in under four hours, which is great for when we have new players. For this battle there was a meeting engagement planned, but it never really materialized. The reason is that the two most aggressive members of our gaming group were on the same side and at the first opportunity they naturally attacked! This set off several large assaults across the board, some sharp British counterattacks, and then even more attacks by the French. At one point it looked like the British might break open the center of the French line, but they could not capitalize and had lost too many stands.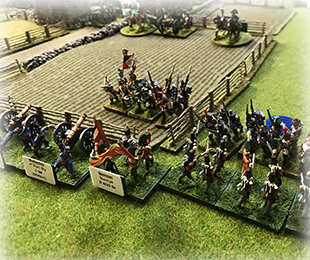 The British artillery, however, had a terrible night. Time and time again they simply could not stop anything! The British kept rearranging the line, but finally cracked afer one too many bad rolls during melee. The British right, which had been relatively unscathed, could never really get going and in the end, they too were swept away by the victorious French. A pretty good game with small forces (a few divisions per side) which worked out well and everyone had a great time. Next time we hopefully get to use some Spanish forces.
The Friday Night Update is sponsored by Trenchworx.