11th Annual WMA Tournament
Four Unusual Armies Vie For Championship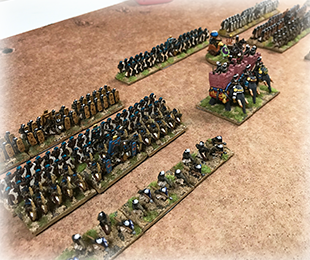 Once per year we have a Warmaster Ancients tournament, which is a lot of fun and you can get a few games in quickly. Not only that, it's a chance to pit your amry of choice against some unusal opponents as was the case this year. We had Hittites, Indians, Imperial Romans, and for the first time in the tournament, German landsknechts. Each player gets a 1,000 point army plus extra units provided by three territories that are rolled for before the tournament begins. This usually gives an army size around 1150-1200 points and a break point of anywhere from 7-9. This allows us to play three games relatively quickly, with the winner having won the most games and the tiebreaker is how many casualty points you inflict during the tournament.
Our first two games went longer than expected, however, so we're going to finish this on the first Friday in October and play a larger group game on the same night. For the first two games, howeer, we had some real slugfests. The Indians actually defeated the Romans for once in a major comeback after things looked grim after the first few turns, but then could not do anything versus the Hittities who did just enough to win. The Germans ended up 2-0 after wiping out the Hittites, but then barely hanging on versus the Romans when the game was called due to turn length. The winner is still in doubt, so the last games should be pretty interesting!

The Friday Night Update is sponsored by Trenchworx.