AOE: The Plan Almost Works
French Turn The Tables & Attack!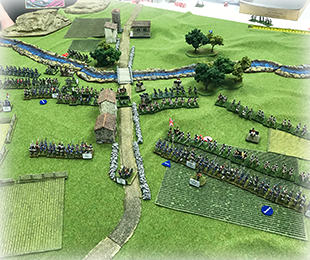 Back to the Spanish Peninsula with Age of Eagles where Wellington believes he has an opportunity to trap Eugene's corps, which has become separated from the rest of the French army. Quickly turning around from the usual retreating movement, the British attempt to get over a river quickly and launch an attack before the French can bring in reinforcements. In what everyone thought would be a defensive battle for the French, they surprised everyone and attacked! This caught the British still struggling across the river and the artillery was in the wrong place. After a few setbacks, the British were able to get their units straightened out and bring their numbers to bear.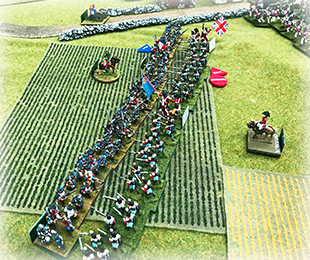 Halfway through the battle the British thought the French would pull back and resort to some kind of defense. Instead, the French redoubled their efforts in attacking! While the British began to make good progress on their left, the British right was in shambles, due to this one oversized French heavy cavalry brigade which ran over everything in its path! The British brought up more troops and the French then launched a sereis of desperate attacks to break the British lines one final time. British artillery (which needed to be personally placed by Wellington-definitely hurts flexibility) was able to swing into action and helped check some of the French attacks. Still the French came on and there were a series of desperate back and forth encounters along the front line. When the dust had cleared the French were pushed back and the British started to advance, which is when the game was called as a British tactical victory. The French plan to attack instead of defend throughout the battle nearly worked!
The Friday Night Update is sponsored by Trenchworx.