AOD: 1525 era Battle
Renaissance Action: Swiss Attack
Another Renaissance battle and this time it was set in the 1525 era, which means plenty of pikes and heavily armored cavalry! The game was decided upon at the last moment, so we used some army lists from a previous battle. Both sides had some artillery, a few light forces, but pike and heavy cavalry formed the core of the armies. There weren't really any special rules, so the game got off to a fast start. Unfortunately, we ran into some rules issues and spent a good part of the game sorting out some weird situations! There were several cavarly charges that decimated half of the German pike units, but then a Spanish counterattack on the Imperialist far right restored the situation.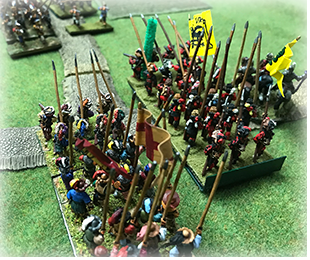 The battle went back and forth, with the artillery and small arms fire slowly doing some damage. Most of the progress by both sides was when they would rout a unit, then others saw the rout and fled! This created a wild center of the board with units charging, routing, disordered, and confusion everywhere! When we called it quits there were still a few turns to go as it was a draw at that point, but we weren't able to finish the battle.
The Friday Night Update is sponsored by Trenchworx.