AOE: Peninsula Battle
Back and Forth at the Crossroads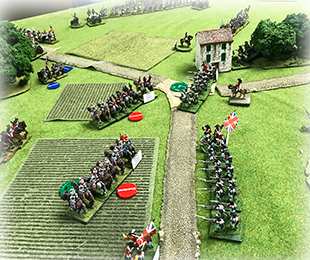 While Age of Eagles is one of our favorite sets of rules, the battles in Europe can be quite involved and are difficult to finish in a single night. This is why for the last few times we have fought battles in the Peninsula! They are short, very interesting, and we can get most of them to a conclusion in 4-5 hours, which is a big plus for us. This was sort of a meeting engagement, with both sides entering from opposite edges of the board and with a lot more cavalry than you would usually see in a Peninsula battle. While the infantry of both sides raced to the crossroads, which was one of four objectives, the cavalry swung into lines and started charging each other.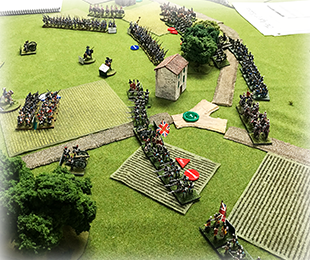 This set the stage for what would happen most of the night, which was a confusing set of melees swirling across the board. Each side had some great successes, usually followed quickly by some dismal failures! Right at the end it looked like the French would punch through the British center, but a series of bad die rolls ended that dream and the British counterattacked. When the dust finally settled the British had won a narrow, but hard fought victory.
The Friday Night Update is sponsored by Trenchworx.