Age of Eagles: Sacile 1809
French & Italians Hold Off Austrians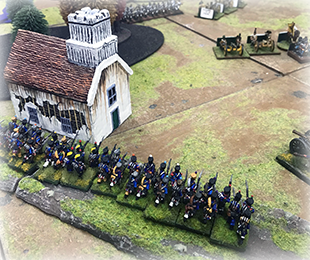 We decided to try something a bit different this time with Age of Eagels and that was the "other 1809 campaign" that was set in Italy. While there would be French and Austrians naturally, we would also get a chance to use a large Italian force, which is something that you don't see every day! The terrain was also a bit unusual in that there were several streams, ditches, rough terrain, etc., on the French left that would pose some challenges for both sides. The Austrians came right oout and advanced on the French and Italians quickly. Both sides had some huge brigades which were definitely hard to handle due to the constricting terrain. Coupled that with bad command rolls and each side was moving towards each other in short segments. The Austrians put in the first attacks near all of the streams, putting heavy pressure on the Italians. The French in the center came under attack by several elite Austrian cavalry units that almost broke the French army in two.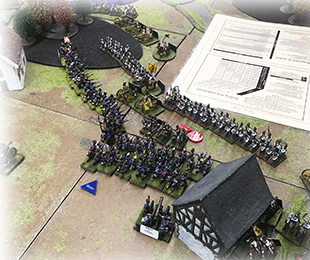 The French responded by holding the center, although by the thinnest of margins, which included some of the worst shooting die rolls in gaming history; 6 out of 7 rolls with a D10 resulted in a 1! The French responded with several counterattacks in the center, followed by a general offensive by the Italians that slowly gained ground. Finally, a determined French attack in the center punched through several Austrian artillery batteries and that was pretty much the game. The Austrians had done everything they could to force the issue and came close to winning in the center severa times, but were let down by die rolls at the worse times. A pretty good game that took less than four hours.
The Friday Night Update is sponsored by Trenchworx.