WMM: Crusaders Win Big!
Saracen Center Collapses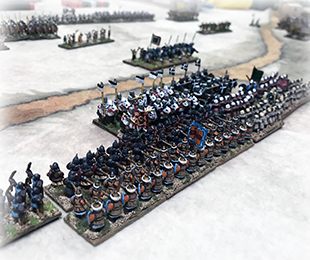 It's been quite some time since we broke out the Crusaders and the Saracens and after this game we know why! This was a fairly large Warmaster Medieval game with about 3,000 points a side. The Saracens in particular had about 20 infantry units and a ton of cavalry, while the Crusaders had fewer units. However, the Crusader knights are something to be feared and it showed during this game. Both sides cautiously approached each other, but soon a series of charges started across the board as the Crusaders decided to forego any more maneuvering. The first charges were devastating and when the Saracens counterattacked, the die rolls were bad and it just compounded the issue.
The Saracens kept pressing forward to put pressure on the Crusaders, but a second series of charges left the Saracens in dire circumstances. The Saracens did manage to inflict some serious damage to the Crusader left flank, but it was too little, too late. In the end, the Crusaders were triumphant and by a large margin. The Saracens definitely need a new army composition and some new tactics as the last few times they have not fared well!
The Friday Night Update is sponsored by Trenchworx.