WMM: Crusades Siege
Saracen Final Assault on a Castle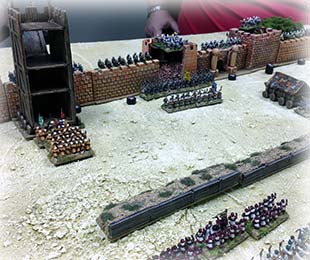 Although we've been playing Warmaster Ancients for what seems like a decade, we've never tried a siege. Most of that is because A) siege games are hard to pull off, and B) you need a lot of infantry for the attackers! I had started assembling the walls and towers last fall while slowly working my way through a few thousand points of Saracens, plus accumulating the needed siege equipment. We finally did our first game this past Friday with mixed results!

First, although the board looked pretty good it was readily apparent that for a group game we needed more walls. The next thing we saw is that the mix of siege equipment available did not give the attackers the best chance.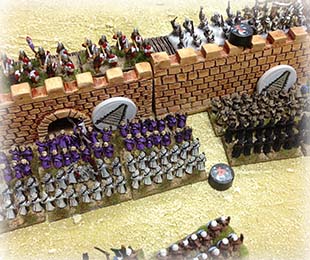 On top of all that we had no idea what we were doing, even though some of us had read the siege rules a few times! Some of that was the siege rules are so different from the normal WMA rules that it took us awhile to wrap our heads around it. The entire situation was not helped by the Saracens having some brutal command rolls during the game, plus we kept discovering rules that could have changed the outcome of things that had occurred earlier! Naturally, the idea for the attacker is to hit the walls at the same time in multiple spots, but the Saracens rarely accomplished this. Instead, there were some life and death struggles along the ramparts with the Saracens in a good position when we needed to call the game. Our next plan is to add some more lengths of wall, make sure the wall sections are a uniform standard that goes with the unit sizes, get some more siege equipment, and try again. Even though there were some problems it proved to be a very entertaining and unusual game!
The Friday Night Update is sponsored by Trenchworx.